Catherine Villa
BIOGRAPHY Catherine VILLA
The discovery of the works of Giacometti was fundamental and revealing for the artist, especially when this latter created « L'Homme qui Marche » (The Walking Man).
Paintings last and time stands still. When looking at these miraculously emerged beings, we also stand still. The image which appears in the light is of ourselves.
Where do we come from? The artist seems to be asking. What roots do we have and what legacy can we leave?
Close to people, Catherine literally integrates us to the work, she sends us back to our origins, to our condition, showing our fragility together with our hopes. Her characters are always the same as in real life, always in question, always waiting. They are the protagonists of their own life-stories.
The links that bind us to each other are questioned. The human being is a being in a relationship but what does he make of it? It is a case of evoking the moments which mark our lives, moments of separation, moments of solitude or of discovery and exchange.
From a technical point of view, diluted oil is put on completely moistened linen canvas and glazes are superimposed. Then pigments are projected on. All this is carried out using hard brushes, sieves, combs with very few actual direct touches, the idea being yet again to get back to our roots. The artist experiments with ancestral techniques of parietal art.
Bronze sculptures are in the same vein to find our roots within the clay and the great bond with the land. It is a means of expression by the hand which completes what paintings express but three dimensionally.
CAREER
Higher studies: Degree in child and adolescent psychopathology.
From 1980 to 1996: Courses in art schools and in Liliane Simon's workshop. The artist practiced watercolor techniques for more than 10 years.
In 2004, Enrolment at the 'Maison des Artistes'.
Catherine's work can be found internationally. Her paintings and sculptures appear in private collections in United States, China, South Korea and Europe.
The artist was awarded: (Main Selections / Honors)


2007 - International Biennale of contemporary Art - Florence. Italy.
2007 - First prize in the general council of Yvelines - France
2005 – International Biennale of contemporary Art "MIAB"- Madera. Portugal. France was represented by seven recognized artists.
2006 - First prize "Salon ARTS et ARTISTES" - Paris. France
2011 - Special Honors at "Les couleurs de l'espace" - Toulouse. France
2011 - First prize in the general council - France


Main Exhibitions since 2005 (extract)
Overseas:
Represented in USA by "Gingerbread Square" Gallery. Key West. Floride.
2015 - International exhibition Affordable Art Fair – Maastricht. The Netherlands.
2015 - International exhibition Spectrum Miami - Miami. USA.
2015 - Represented by Dutch Luxury Design. The Netherlands.
2013 - International exhibition GANA ART Gallery - Seoul. South Korea.
2013 - "Lijn3" Gallery - Noord-Beveland -The Netherlands.
2012 - International Art Exhibition Event - Antwerpen. Belgium.
2012 - "De Marchi" Gallery - Bologna. Italy.
2010 - International exhibition Shanghaimart - Shanghai. China.
2009 - International exhibition "BASEL Selection Art Fair " - Basel. Switzerland.
2008 - International Artfair - Guangzhou. China.
2006 - "October" Gallery - Geneva. Switzerland.
France:
Permanently represented at 3W Gallery –Reims.
2018 - Biennale de Versailles.
2015 - "PasseArt" Gallery – Troyes.
2015 and 2016 - "Salon International d'Art Contemporain" - Marseille.
2015 - "Orange Cobalt" - Paris.
2014 and 2013 - "Beauté du Matin Calme" Gallery - Paris.
2014 - "Carré d'Arts Croisés" Gallery - Bergerac.
2013 / 2010 - Rotary Art Exhibitions – Paris.
2012 - "Salon d'art" - Meulan / Paris.
2012 - "Salon des Beaux Arts" - Chatou / Paris.
2011 - "Salon des Beaux Arts" - Honfleur.
2009 - Solo Exhibition at "La Maison du Westhoek" - Lilles.
2009 - "Theater" Gallery - Tours.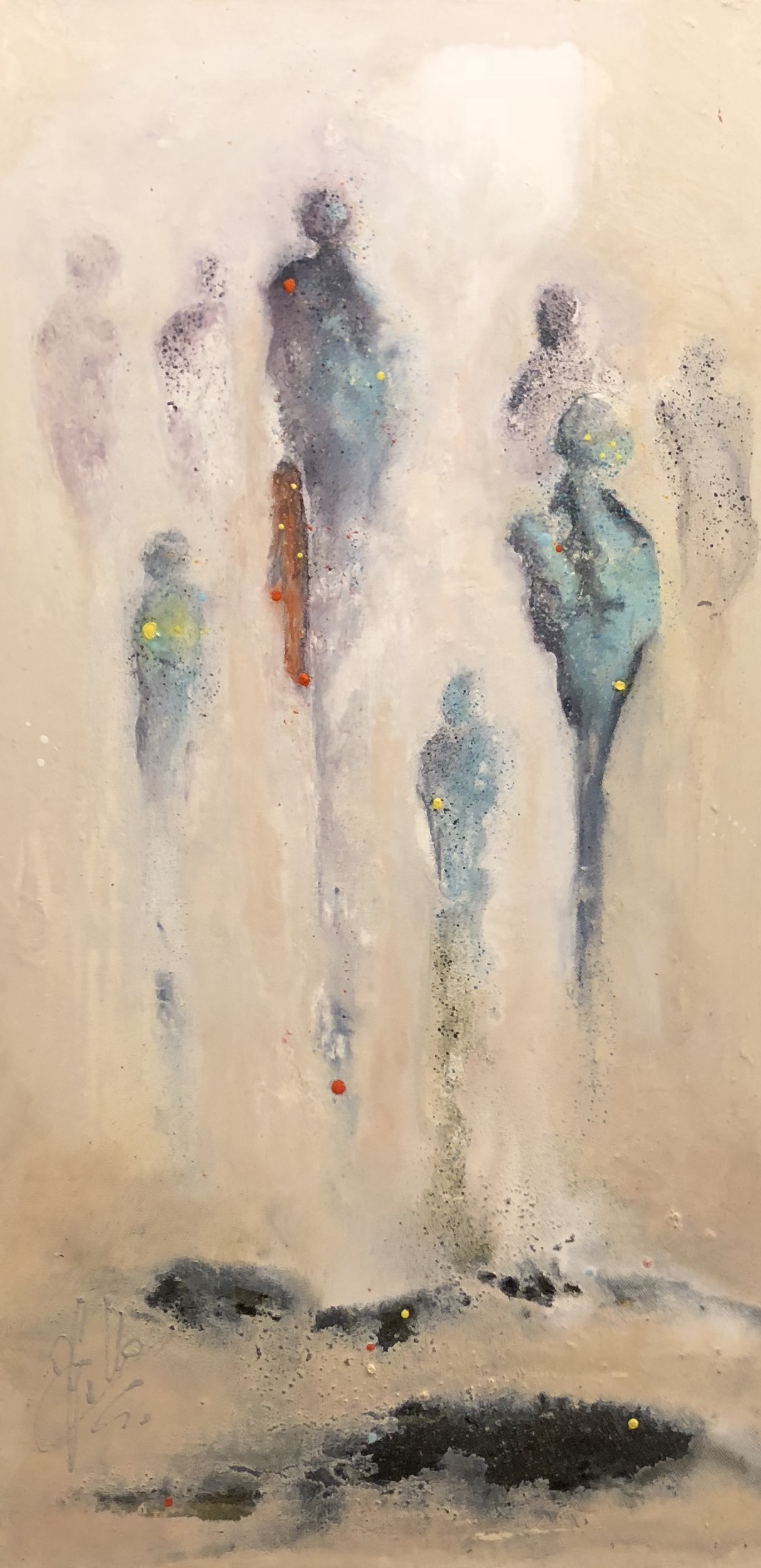 "Ces Valises Parfois Si Lourdes I"
35.5" x 11.8" Oil on Canvas $2,300.
"Ces Valises... Parfois Si Lourdes ll"
31.5" x 15.75" Oil on Canvas $2,300.